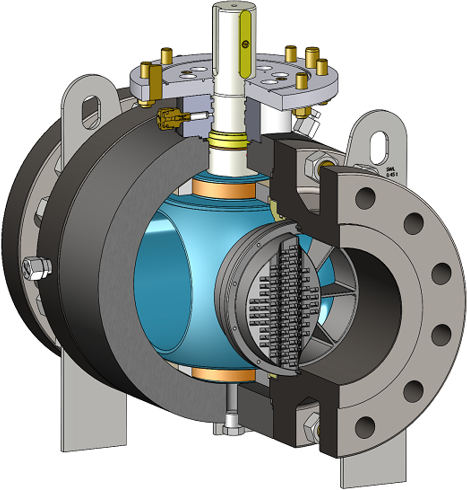 High rangeability rotary control valves
Control valves don't have to be loud. IMI's dBX Shield™ valve is the safest, quietest midstream control valve on the market. With the industry's highest rangeability and unprecedented flow control, it essentially eliminates downstream vibration and can reduce noise to just 60 decibels (dBA). Its state-of-the-art DRAG™ technology controls high fluid velocity—delivering lower risk, lower noise, and lower maintenance costs for decades to come.
As population growth brings people closer to pipelines and infrastructure, it also brings new challenges for noise attenuation. Over time, uncontrolled vibration from excessive noise and velocity in pipelines can lead to hearing damage, valve failures, and gas leaks. The dBX Shield™ valve can reduce pipeline noise to just 60–85 dBA, the equivalent of a conversation, delivering unmatched safety to personnel and nearby populations.
The dBX Shield™ valve addresses the problem at the source by using DRAG™ technology to control high fluid velocity and pressure. It can reduce vibration by 99%, and noise by 30-50%, compared with a ball cage control valve. This means the valve can be installed above ground without the need for additional noise attenuation, such as burying the valve deep in the ground or building a barrier around it. For buried pipelines, the valve can be placed in an open vault for easy access, without requiring pipeline modifications.

These advantages can help operators reduce costs and make visual inspections and maintenance easier than ever before. The valve can be manufactured for most pressure classes, sizes, and operating conditions. Optional features include fire safety, multiple levels of tight shut off, and fugitive emissions packing to minimise leakage in critical applications. We can adapt the dBX Shield™ valve to meet your precise flow rate specifications, health and safety requirements, environmental regulations, and much more.

More info : https://www.imi-critical.com/products/dbx-shield/